Envisaging Landscape
John Glover "Mills Plains". TMAG Hobart
This was painted in the 1830s after actual occupation of the area by Tasmanian First Peoples – they were 'painted' into the landscape. But note the extraordinary regrowth of invasive wattle [acacia melanoxion] – and remarked on by Glover – in the background indicating cessation of firing of the landscape. The big gums were preserved by "cool" firing which suppressed regrowth seedlings.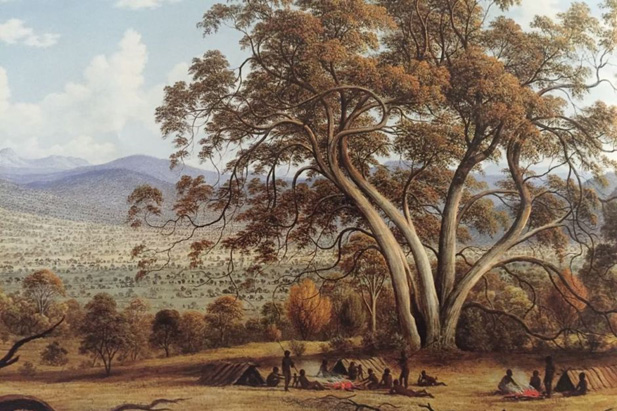 Why multiple names for the river?
Many languages use generic names with adjectival qualifiers e.g "Grey Kangaroo" where "Kangaroo" is the basic word for the animal and "grey" is an adjectival qualifier that broadens our understanding of the basic generic word.
Aboriginal languages tend to use separate, multiple terms instead, so that "grey kangaroo" or "pregnant kangaroo" would be distinct words yet in the understanding of the First People it is assumed we are talking about the same creature with different aspects.
What would the place have looked like without those First People gathered on the shore?
If you had sailed up the Kunermulukerker, the Tamar, in the wake of the first British interlopers what would the landscape have looked like
WITHOUT
First People presence and occupancy?
Apart from those riverine margins of vegetation or low rainfall eucalypt forest, the land cover would have been a dominant impenetrable rainforest.

Is there evidence today of the landscape of the First People?
Actually, there is a lot of evidence if we know how to "read" landscape though intense modification of the Launceston basin makes that more difficult at that location.
This scene from the northeast seems simple enough but it tells a complex story. The tree is a eucalyptus regans which is a massive forest species, the tallest hardwood species in the world. Here however the tree has grown in the open and branched to maximise command of the light. It was a sapling around 1800 so the surrounding area would have been open fired country. Though not obvious from this picture, it grew near a major stream which was a seasonal migratory route of the First People from the coast to the Camden. All of this can be "read" from one tree.
Measurement and assessment were carried out and confirmed by Forestry.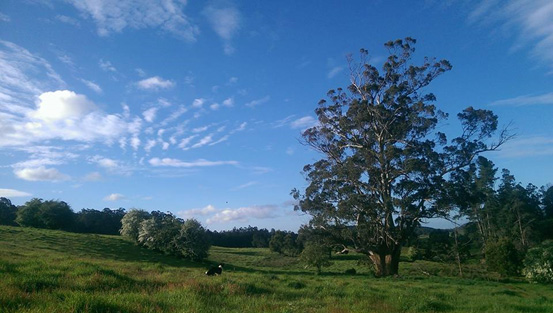 Eucalyptus regans on Brid River indicating Aboriginal migratory path.  Photo by Grace Walsh
In 2011 Bill Gammage published his controversial, The Biggest Estate of Earth: How the Aborigines made Australia. He refuted the idea of Aborigines as nomadic wanderers idling across the landscape. Instead, he saw the Aborigines as landscape managers, modifying and maintaining a vast Estate, a giant "gentleman's park."
White intrusion interrupted Indigenous landscape maintenance by fire and mosaic burning which meant an eruption of fire vulnerable regrowth that cause catastrophic bushfires today.
read more