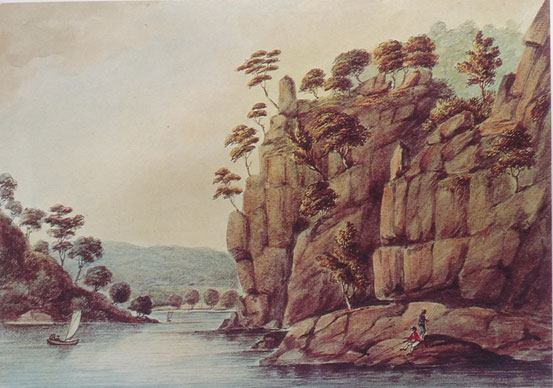 The Gorge 1808: Still a recognisable Aboriginal Landscape. George Prideaux Harris, 'Near Launceston, Port Dalrymple, Van Diemen's Land 1808' [Mitchell Library, State Library of NSW]
So why land on Launceston?
What made the Launceston Basin so special?
Launceston is a rich borderland, a place where boundaries meet – where saltwater and freshwater meet, where the First People of the Northern Midlands interface with the riverine people of the Tamar, where the wetlands border the game plains. Because of the interface of saltwater and freshwater this means that landscape abundance is amplified by the diverse ecology.
This, along with the intense landscape modification means the Launceston basin – where the Esk rivers and the Tamar meet – was a densely populated place of First Peoples seasonal habitation.
This was a vast wetland rich in waterfowl and swans, eggs, mussels and oysters, and a variety of edible plants, as well as plentiful grass and game in the grassland of the adjacent hinterland which means in the spring and early summer it was a magnet to the First People.
And by the way, it is one of the reasons white occupation centred here as well. The British, learned from the Dutch, the value of the nutrient rich alluvial wetland soils. When drained these soils were highly productive.
First People engagement with the landscape encouraged the dominance of certain species. Intense human landscape interaction has been shown historically to alter the balance and dominance of selected species. Plants follow in the paths of favoured human selection.
But far from the present tendency to over exploit, those plants and animal species that were favoured foods were nurtured and encouraged to become dominant – plants follow human need and respond to it.
This is not so much 'sustainability', as methodical, conscious decisions to factor in future resource needs.
The kalamaluka-Tamar Valley is the product of 200 million years of geological evolution.
The story begins at a time when the old super-continent of Gondwanaland began splitting up, Antarctica was separating from Australia and the Tasman Sea was opening up. Tasmania was very much in the middle of these two movements when the SE part of the Australian continental plate was being stretched both from north to south and from east to west.
read more