"Ochre"
Barry H. Brimfield
Because of respect and to minimise vandalism the exact location of sites is only approximate.
What is Ochre?
Ochres are earthy, pulverulent (reduced or crumbled to powder or dust) forms of Haematite and Limonite or friable (easily crumbled), earthy iron ore.
It is widely distributed in Tasmania, both as small pellets in gravels (Tamar Valley) or in reefs (Alum Cliffs). It takes the form of a natural pigment, browns, reds and yellow. Red in its most vivid state is most prized, yellow it seems is rarer.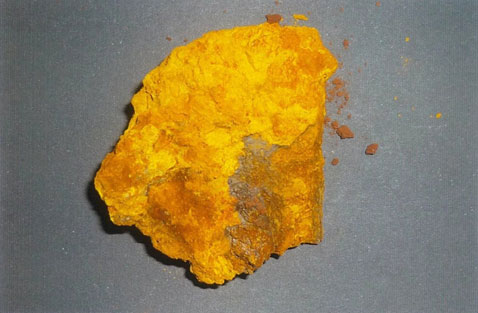 At the most famous site, "Toolumbunner" in the Alum Cliffs near Mole Creek, it takes the form of a series of hard and soft beds, very brown (Ferruginous ie containing iron) and clay-like. Parts of the site are red brown ferruginous sandstones and grey mudstones.
Ochre is Haematite (Fe2 O3) plus small parts of Goethite (FE OH) and Limonite. Quartz content in the ochre is 50 to 60%.
Read More Palaeo Tasmania
The considerable size of some Aboriginal middens raises questions. These are constructed consciously and deliberately – they are not the result of people idly tossing discarded shells over their shoulder.
read more