Is there evidence today of the landscape of the First People?
Actually, there is a lot of evidence if we know how to "read" landscape though intense modification of the Launceston basin makes that more difficult at that location.
This scene from the northeast seems simple enough but it tells a complex story. The tree is a Eucalyptus regans which is a massive forest species, the tallest hardwood species in the world. Here however the tree has grown in the open and branched to maximise command of the light. It was a sapling around 1800 so the surrounding area would have been open fired country. Though not obvious from this picture, it grew near a major stream which was a seasonal migratory route of the First People from the coast to the Camden. All of this can be "read" from one tree.
Measurement and assessment were carried out and confirmed by Forestry.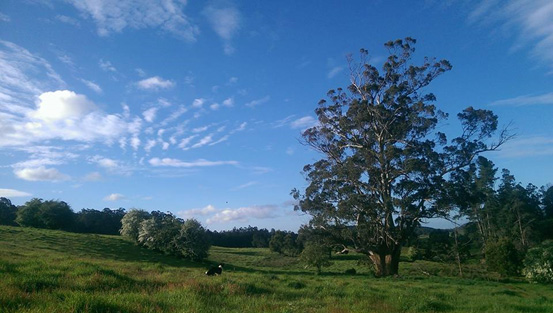 Read More Envisaging landscape 
In 2011 Bill Gammage published his controversial, The Biggest Estate of Earth: How the Aborigines made Australia. He refuted the idea of Aborigines as nomadic wanderers idling across the landscape. Instead, he saw the Aborigines as landscape managers, modifying and maintaining a vast Estate, a giant "gentleman's park."
White intrusion interrupted Indigenous landscape maintenance by fire and mosaic burning which meant an eruption of fire vulnerable regrowth that cause catastrophic bushfires today.
read more