What would the place have looked like without those First People gathered on the shore?
If you had sailed up the Kunermulukerker, the Tamar, in the wake of the first British interlopers what would the landscape have looked like WITHOUT First People presence and occupancy?
Apart from those riverine margins of vegetation or low rainfall eucalypt forest, the land cover would have been a dominant impenetrable rainforest.
That is a shock to our expectation because what was seen on the shore was a landscape substantially modified by First People activity.
Instead of rainforest we find an open grassland with dominant fire tolerant species like eucalyptus and casurina and only remnant rainforest in wet margins.
A Tasmania with the habitation and land use of the First People, landscape shifted from near total rainforest to barely 47% rainforest.
That was a massive modification of the landscape and demonstrates the incredible ecological footprint of First People's occupation and land use. It isn't a pristine landscape and certainly not a 'wilderness'. It was an awesome interruption of the landscape which required a vigorous and viable population to maintain that panorama.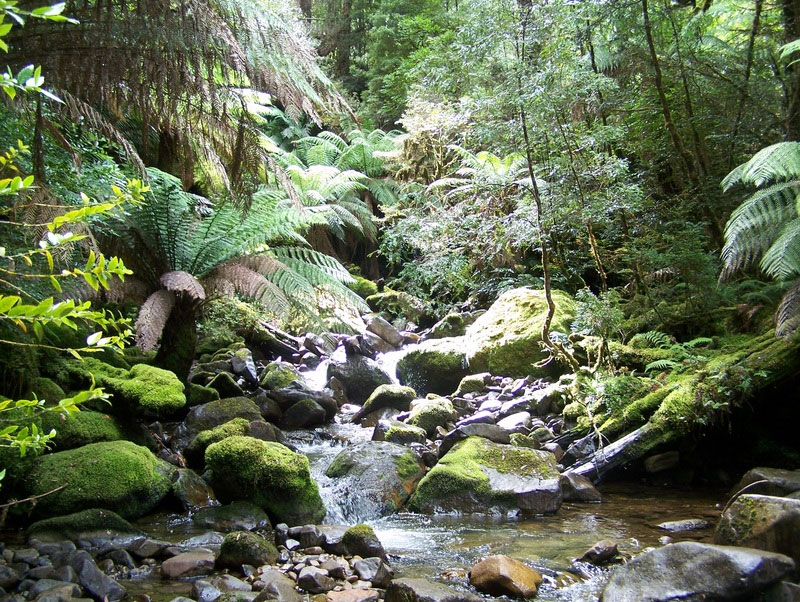 Read More Envisaging landscape 
In 2011 Bill Gammage published his controversial, The Biggest Estate of Earth: How the Aborigines made Australia. He refuted the idea of Aborigines as nomadic wanderers idling across the landscape. Instead, he saw the Aborigines as landscape managers, modifying and maintaining a vast Estate, a giant "gentleman's park."
White intrusion interrupted Indigenous landscape maintenance by fire and mosaic burning which meant an eruption of fire vulnerable regrowth that cause catastrophic bushfires today.
read more