Ochre Exploitation Around the Tamar
By Nigel Burch
Until very recently it was thought that Tulampanga, near Mole Creek, was the only source of high-grade ochre available to Indigenous peoples.
Europeans in the 1820s discovered some of the best-quality ochre in Australia, at Beaconsfield and Rocherlea, though they did not consciously connect it to the Aboriginal population. The quality of the Tamar material was such, however, that a paint industry was established in Launceston in the 1920s.
With indigenous settlement of the Tamar going back 40,000 years, however, it is simply not credible that they would not have already known of these resources. Apart from its use in their cultural practices, the ochre would have been a prized trading commodity, perhaps in exchange for access to other group's country, for example.
The question is naturally asked – how were these deposits found so early by white settlers?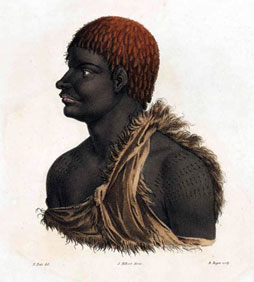 Ochre had significant cultural significance, as can be seen from this French painting of a Tasmanian Aboriginal man encountered by the Beaudin expedition of 1807. Image: SLNSW
The world-class gold deposit at Beaconsfield was found by luck, when a tree blew over and gold was seen in its roots. Mineral resources are usually covered by soil and vegetation. It is therefore a well-established practice in mining, of 'discoveries' actually taking advantage of earlier exploration which had exposed a resource.
The early discovery the ochre strongly suggests that it was found when European pioneers noticed, and followed up on, indigenous quarrying activity. The quality of the mineral around the Tamar strongly suggests it was a very important resource to the local indigenous people over millennia.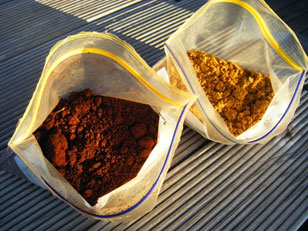 High quality ochre can be found on both sides of the Tamar. Image: Dr Paul Richards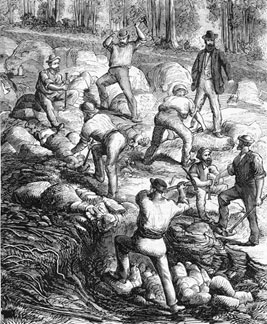 An 1873 sketch of miners only a few metres from the ochre deposit at Beaconsfield. Image: Illustrated Tasmanian News 1873.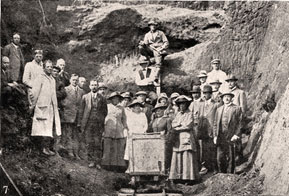 The Governor's party at the Beaconsfield ochre deposit in 1918. Picture: Weekly Courier 28/3/1918
Read More Palaeo Tasmania
The considerable size of some Aboriginal middens raises questions. These are constructed consciously and deliberately – they are not the result of people idly tossing discarded shells over their shoulder.
read more