A "grounded" rather than "portable" faith – A Psychic Invasion.
Europeans have always had difficulty in grasping a concept of religion in Indigenous practice and even denied until the mid 20th century that you could apply the term 'religion' to Aboriginal practice – magic and sorcery but not 'religion'.
European and eastern faiths have 2 aspects:
They invoke teleology (an end aim) and soteriology (salvation); And the faith is "portable", that is it can be taken wherever you go.
Aboriginal faith, however, is "grounded" in county and revolves around practice on country, the sole end aim of existence. The principal tool of that 'religious' practice is maintenance of landscape by precise firing. It is not dramatic to the outside eye, even somewhat prosaic and apparently not 'religious', but it is a profoundly intense connection to country that "suggests very long-term environmental determinism." [Bill Gammage, Plain Facts: Tasmania under Aboriginal Management, Landscape Research V33, No.2, April, 2008. page number.]
This is the Law that requires them to "ensure the abundance or survival of every form of life". [Gammage 2008, 252] Firing landscape was a religious imperative which is why prevention of landscape maintenance by white intrusion and prohibition was psychically devastating – a psychic invasion, not just an invasion of country but an invasion of the mind.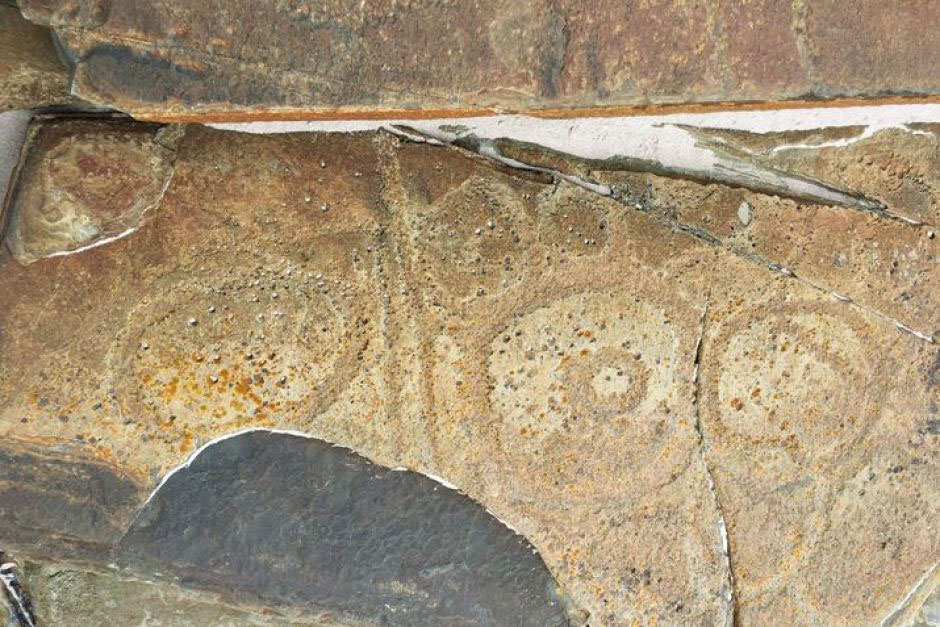 Tasmanian Rock Art (petroglyphs) ABC 
Illustration by Hilary Burden 
Read More Understanding how First People's viewed their world
On the 18th February 1802 the Botanist, Leschenault, of the French exploration expedition led by Nicholas Baudin while at Maria Island, came across a small mound with a tent like "wigwam" of bark over it. 
read more