Tamar Valley Geology Determining the First Peoples Occupation of Northern Van Diemen's Land
Ian Pattie, November 2020
Abstract
The forces of nature – volcanic, glacial, fault and the like – lay down a rough-hewn sculpture upon which other weathering forces produce a landscape for the evolution of flora and fauna. In Tasmania, the evolution of millions of years became more complex about 40 000 years ago with the advent of the First People of this land.
Accepting huge portions of the geological backdrop, the First People set about managing the environment to meet their needs. The rivers and valleys, the high country and the treed plains were accepted and adapted and features within the environment were brought into ceremony as required.
NB A comprehensive analysis of the geology of the Tamar Valley may be found in:
 Corbett, K.D. 2021 (2:vi): Channel to the Strait: the geological history of the Tamar Valley–Launceston area. Papers and Proceedings of the Royal Society of Tasmania 155(1): xx-xx. ISSN: 0080-4703. 35 Pillinger Drive, Fern Tree, Tasmania 7054, Australia. Email: keith.corbett@bigpond.com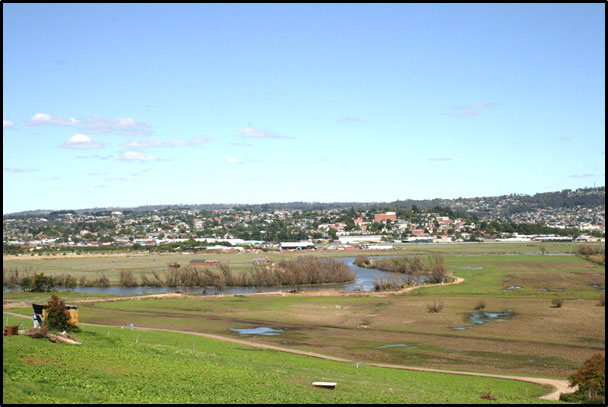 Part of the North Esk delta from Ravenswood. This one-time part of the Church of England Glebe was the location of some of Launceston's first farms,   Ian Pattie photograph, 2020
Read More Understanding how First People's viewed their world
On the 18th February 1802 the Botanist, Leschenault, of the French exploration expedition led by Nicholas Baudin while at Maria Island, came across a small mound with a tent like "wigwam" of bark over it. 
read more