Tamar Valley Geology and British Settlement
Addendum: to Tamar Valley Geology Determining the First Peoples Occupation of Northern Van Diemen's Land
Addendum: to Tamar Valley Geology Determining the First Peoples Occupation of Northern Van Diemen's Land
Abstract
The British decision to settle at the head of the Tamar Estuary opened a battle with the Tamar Valley's geology and the forces of nature that surround it. The British desired to impose its will on the environment and the First People. The British administration did not enter Van Diemen's Land with a sense of adapting to its delimitations. The geological and biological foundations for human existence in Van Diemen's Land, did not create a Biblical Eden, but rather a landscape which might be adapted to human needs. The First People's firestick technology was just one form of adaptation, but British settlement – the transference of a European island lifestyle to the Southern Hemisphere – required an attempt at domination of the environment. In this attempt, the British were overlaying their experience, culture and needs on the same ground that had sustained the First People's experience, culture and needs. The attempt started immediately the British landed and continues today, although accommodation, not domination has been the realization.
The British settlers brought with them the knowledge of a thousand years of living in, and adapting, swampland to their needs. If they were to make a permanent settlement, they needed to control the swampland that made the North Esk River delta, and the first solution was to stop the area flooding at high tide, and this required a tidal levee.
This addendum to Tamar Valley Geology Determining the First Peoples Occupation of Northern Van Diemen's Land, takes a brief look beyond the first few years of British settlement and the battle to survive and on the North Esk River floodplain. The events occurred within a 300m radius of where the British first stepped ashore in the North Esk Estuary.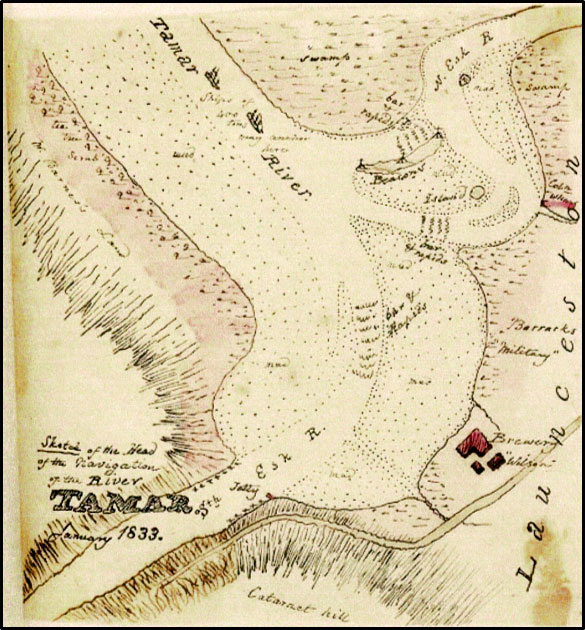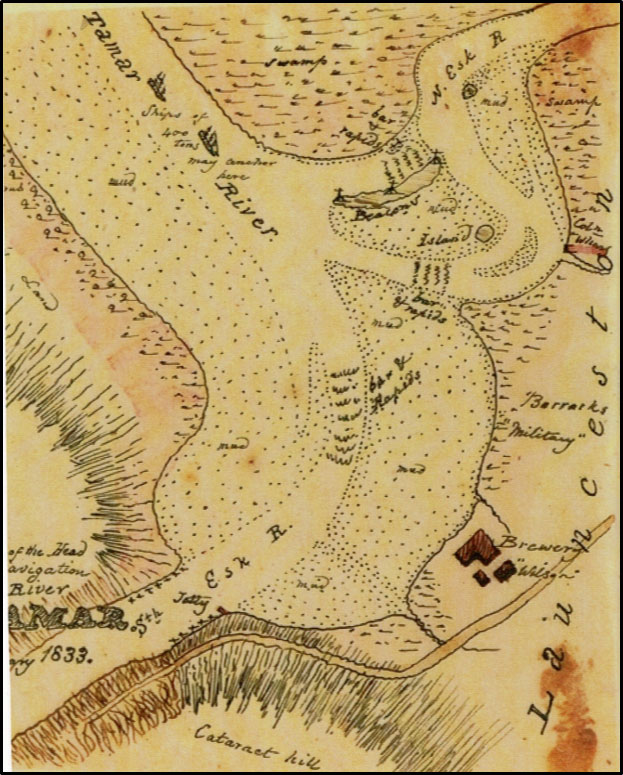 Is an enhanced version showing the written detail more clearly. Enhanced view of the Thomas Scott sketch of the Head of the Tamar River, 1833.
Read More Understanding how First People's viewed their world
On the 18th February 1802 the Botanist, Leschenault, of the French exploration expedition led by Nicholas Baudin while at Maria Island, came across a small mound with a tent like "wigwam" of bark over it. 
read more